Our favorite reindeer (after Rudolph) is Frozen's Sven and he's actually 3 feet tall.  You'll never want to let him go.
Sven has broken free from Arendelle and is ready to warm up your world this upcoming Christmas.  If your kids are overly into Frozen (have seen the movie, been to the Broadway show, played with all the toys) they're going to freak when they see Sven who's pretty much as tall as they are.  Did we mention he's 3-feet tall?!
What Is It:  Playdate Sven is the latest must-have Frozen 'toy' of the year from the Jakks Pacific toy company.  He's the unsung hero of the Frozen movie(s) and while he isn't technically a traditional ride-on reindeer, he is able to have a child up to 70 pounds sit on him.  Their imagination will run wild as they envision themselves riding him all throughout Arendelle with Kristoff, Elsa, Olaf and the rest of the crew!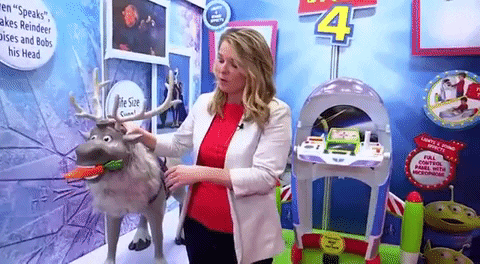 Sven stands just over 2-feet tall and is actually pretty interactive.  When your kids press the top of his head he'll say a variety of super fun phrases, many of which are popular from the movie, and will even make some of his famous reindeer sounds.  Shhh! don't tell Santa he's staying at your house this Christmas.
He even comes with his very own carrot (a toy one, that as) and you and your kids can feed him.  When you do Sven will make really cute real-life carrot chomping sounds.  No need to be worried about manners with this one!
Our favorite new big buddy can support a child up to 70 pounds, so he's safe for them to sit on.  He's really perfect for kids anywhere from about 3 – 7 years old.  Or, you know, even a smaller 8 or 8 year old.  Just make sure they're not more than 70 lbs!
How Much Is It:  $99.99
Release Date:  October 4th
Pre-Order Availability: Yes, today! Pre order it here!
Where to Buy:  The Official Playdate Sven from Frozen – Buy It Here
---
Top Gift Ideas:
Check Out the Best New Toys For the 2022 Into 2022 Season
New LOL News to Stay in the Know in 2022
These are the Coolest Fortnite Toys for the Big Gamers!
Good Christmas Gift Ideas for the Best Holiday Ever