Now you can bloom your dolls over and over again!  Blume Secret Surprise Garden has just about everything you need in a surprise toy and we're already so in love.
We were so ready for something new from Blume and they definitely didn't disappoint with this super amazing Secret Surprise Garden play-set, especially because a rare and exclusive Blume Doll will grow out of this magical purple flower pot.  What more could you ask for?!
What Is It:  Blume Secret Surprise Garden is the super chic (and giant) flower pot where your surprise Blume Doll sprouts out of after you water her with the little watering can that comes with it.  Once she blooms you can gently push down her flower petals and then entire magical flower pot will open up, revealing all sorts of pretty amazing surprises and accessories.  Watch: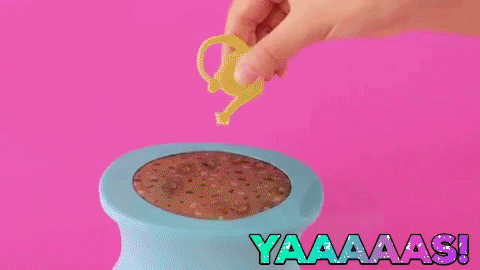 In fact, there are 30 surprises your kids will love to discover.  Some are fashion accessories, some are beauty accessories, and some are home decór essentials so you can decorate the inside of your flower pot.
Some of the surprises include: The new Blume doll itself, a brand new surprise mini friend, sets of stickers, a bunch of cool outfits your doll can wear, a new amazing hairstyle, beauty and fashion accessories like sunglasses, purses, brushes, combs, headphones, and way more.  30 to be exact!
If your favorite part of this whole fun experience is watching your doll grow out of the pot, you're in luck!  All you have to do is hit the reset button on the pot and your Blume Doll will be able to pop out and grow as many times as you want her too!  Meanwhile, the inside of the pot includes fun little places and nooks for your doll to store her clothes (there's closet space), get her beauty-game on point (there's a vanity and a mirror), decorate the walls (place your stickers there in the gallery), hang out on the balcony and talk to your other Blume friends, and more.
Overall there are 22 different collectible Secret Surprise Gardens to collect and you never know who's going to be inside!
How Much Is It:  $29.99
Release Date:  October 1st
Pre-Order Availability:  Not yet, but check pre order here!
Where to Buy:  Blume Secret Surprise Garden – Available Soon
Top Gift Ideas:
Series 2 of LOL Surprise OMG Dolls is on the Way
The Most Popular Toys for Christmas By Age
HatchiWow Hatchimals Will Be Super Tough to Find in 2022
Super Cute Stocking Stuffers for Everyone This Holiday