We're calling it right now.  The new Luvabella Newborns baby doll will be one of the most sought-after toys this upcoming Christmas holiday.
Unless you've been living under a rock (and, TBH, we have been) Luvabella is back!  Pronounced "Love-a-bella," SpinMaster debuted at the 2023 Toy Fair their latest creation.  Yes, we're talking about Luvabella Newborns!
What Is It:  The brand new, newly born, Luvabella Newborns are the some of the most realistic and most interactive baby dolls we've seen in a while.  They're a smaller version of the one that came out a few years ago (and sold out everywhere), but can still do so many of the amazing interactive things you've come to know and love.  Oh, and we're 100% terrified by her too so you're not alone.  Kids love her though.
Like we said, this newborn is smaller than the original version and even weighs less.  She is a newborn after all. Your kids are going to have to care for her just like any of their other dolls, but this one will respond and interact with them so they're really on the hook to help keep her happy.
What Does She Do: Since she's a newborn she needs to be fed, like, all the time.  Thankfully she comes with a cute bottle that you can use to actually feed her.  Once you put the bottle to her lips she'll start to move her mouth and "drink" what's in the bottle.  Like a real baby, after they've been fed their bottle they can get a little gassy so you have to pick her up, place her over your shoulder, softly rub her back, and begin to burp her.  Who doesn't love hearing a doll burp?!
You'll totally love tickling her all the time.  When you tickle her tummy she'll let out the cutest little giggles that'll most likely make your kids laugh right along with her.  And when it's time to put her to bed you'll lovingly give her her pacifier and gently rock her back and forth until she falls asleep.
When she falls asleep the most amazing thing happens.  Her tummy will move up and down so that it looks like she's actually breathing.  We. Are. In. Love.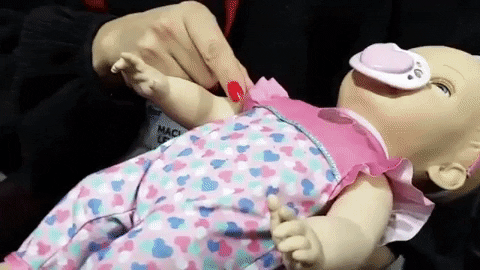 Will there be a boy newborn?  A little baby brother to be friends with his little baby sister?  Only time will tell!
How Much Is It:  $59.99
Release Date:  August 1st
Pre-Order Availability: Yes! Pre Order here today!
New Luvabella Newborns for 2023 – Buy It Here
---
The Luvabella Newborn with Black Hair – Buy It Here
---
Top Gift Ideas:
Blume Dolls are Officially Happening!
L.O.L. Surprise Ohh La La Baby Surprise is Here!
Check Out the New Sweet Smelling Candy Locks Dolls
Cubby the Interactive Bear is the Absolute Cutest
Lucky Fortune Charm Bracelets are the Coolest Ever