And we're officially calling it.  The How to Train Your Dragon "Hatching Toothless" Hatchimal is the *it toy* of the year.
Hatchimals are back, baby!  Sure they never really went away, but this is slated to be the biggest launch of Hatchimals since the original debuted in 2016.  Thanks to the insane popularity of the How To Train Your Dragon movie franchise, the gods at Spin Master have announced they're releasing a "Hatching Toothless" Hatchimal this year.  We. Can't. Wait.
What Is It:  Well it's a Hatchimal, of course!  And he's super cute.   We're talking really cute.  Each Toothless will come in its own egg (just like a real dragon) that they'll have to hatch from.  Now, unlike the original Hatchimals, you won't gently rub and love its way out of the shell.  This new dragon needs to be agitated and aggravated to come out of the egg! Your kids will love shaking the egg and moving it all around until it starts to crack and the Hatchimal is born.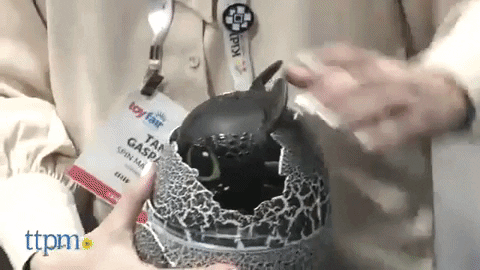 Once he's hatched, he becomes totally an interactive toy you'll love to play with and take care of.  His eyes will light up, he'll road or purr depending on what kind of mood he's in (just like your actual kids), and you can even play games with him like Hot Potato, Toothless Says, and Ask Toothless.
You can also teach him all sorts of things too, like eating a fish, teaching it to fly and dive-bomb all around, and even its famous "plasma blast."  You know the one!
View this post on Instagram
How Much Is It:  $59.99
Release Date:  July 20th
Pre-Order Availability: Yes, today! Pre order it right here.
The New Hatching Toothless Dragon Hatchimal – Buy It Here
---
Top Gift Ideas:
Here's Where to Find the New Hatchimal Pixies
You'll Say Wow to the New Growing Hatchiwow Hatchimal!
Now You Can Grow Your Very Own Blume Doll
These Toys are Currently the Most Popular in the US!